Fall Skill Development Camps
The St. James Junior Canucks are committed to helping foster the development of young hockey players in the community. During the season, all Canuck players take part in various community events...
Read more »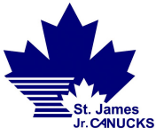 13th Annual St. James Jr. Canucks Sportsman Dinner
Canada Inns Polo Park | Thursday, May 24th, 2018 | Cocktails 6:00 PM - Dinner 6:30 PM
Read more »
Golf Tournament
4th Annual St. James Canucks Golf Tournament is Friday, August 24th, 2018 at Kingswood Golf Club. Register now!
Read more »