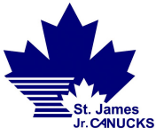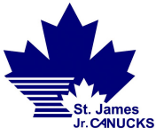 The St. James Jr. Canucks Hockey Club
invite you to attend our
15th Annual St. James Jr. Canucks Sportsman Dinner
Come and celebrate our 44th year competing in the Manitoba Major Junior Hockey League!
Canad Inns Destination Centre Polo Park
1405 St. Matthews Ave.
Cocktails 6:00 pm – Dinner 6:30 pm.
The new date will be May 26th, 2022! The location and times will stay the same.
Thank you for your patience and we hope to see you at our next dinner.
Ticket Prices
Individual Tickets – $125.00 each
(Please make cheques payable to St. James Jr. Canucks Hockey Club)
Elimination draw for $1000.00 will take place during the night.